TeleVideo Tele-PC Plus TS-1605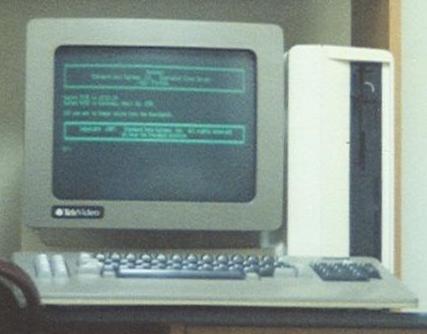 From around 1983 to 2005, my family had a great computer that I wish we still owned: a TeleVideo Tele-PC Plus TS-1605. What I loved so much about this was how it had a built-in, monochrome monitor. I liked how it was all one unit except for the keyboard, and seeing it set aside and unused after my dad got his Packard Bell, I thought it'd make a great personal computer. So from 1999 – 2005, I did in fact use it from time to time. In 2004, I used the Packard Bell to transfer files onto 5.25" floppy disks, and for the first time, the TeleVideo had some DOS games! In September 2005, I made the mistake of giving away this great computer.
I probably began to miss the TeleVideo a lot in the summer of 2009 when I got hooked on old computers again. I just loved the idea of that green monochrome screen and wanted another computer like that – and would even settle for an IBM PC 5150. In 2011, I learned that I could sometimes find old computers at thrift stores, but sadly, as of December 2012, the closest I've been able to find there is an IBM PCjr.
Since 2009 or 2010, I noticed two eBay auctions for a TeleVideo TS-803. One was a CP/M model, and the other was an XT with a 10 MB hard drive. I had considered buying it but was rather expensive. But in November 2012, I was somewhat obsessed with the TeleVideo again and figured that I had better get one soon, as I feared that Peak Oil might eventually make online buying impossible. So I finally purchased the XT version of the TeleVideo – only to find out that the model had no video. I settled for the CP/M version instead.
On December 3rd, I was very anxious. I spent all day waiting for UPS to deliver the TeleVideo. It was such a unique computer, and I had a lot of nostalgia for it and didn't want anything bad to happen to it. I grew more and more frustrated and worried as the day drew closer to the end, and UPS still hadn't arrived. By around 5:00 or 6:00, I decided that UPS was not going to show up that day since it was getting dark, and I felt really mad and frustrated. But sometime after 6:00, I saw and heard a big truck going into a cul-de-sac. I grew hopeful. Was it UPS? Sure enough, after the truck left the cul-de-sac, it stopped at our house! A man got out of the truck and handed me a big box! I was very happy, and once inside, I unpacked the TeleVideo TS-803. For the first time in over seven years, I was reunited with another TeleVideo. And this time, I will try not to get rid of it. I also don't plan to use it much since it is an old computer and don't want it to get broken. Indeed, I am very glad I have another TeleVideo.
Navigation
To My Russian TeleVideo Page
To My Korean TeleVideo Page
To My Georgian TeleVideo Page
Back to Electronics Page
Back to Homepage
Updated Monday, March 9, 2020